Love it or loathe it, Winter is upon us. 
It's the time of year that we rug up against the Winter chills and ills and do our best to keep the bugs at bay.  It's always warm here at GBM so whether it's a massage with Karen Evans you're wanting or you want to take advantage of some time in a comfy chair and a warm blankie while you kick off some bad habits then hypnotherapy with Karen Holt may be the thing for you.  Use this time to improve your immune system and get ready for that summer season with our Naturopath, Michelle or talk over some issues you've been wanting to resolve with Jane, Andrew or Ivanna. Linda Borg is available to perform Neurological assessments should you or a loved one require one and Amber has all your Reconnective Healing and Psych-K needs taken care of.  
Our reception staff would be happy to help you with any enquiries you may have (03) 5223 2370 regarding the services we have available for you or you can visit our website.

Why your brain needs more downtime
by Karen Holt - Clinical Hypnotherapist

Research on naps, meditation, nature walks and the habits of exceptional artists and athletes reveals how mental breaks increase productivity, replenish attention, solidify memories and encourage creativity.

Every now and then during the day or night— everyone begins to feel a little tired, yet we fail to understand the meaning or the impact.   Even beginning the day feeling OK, getting through the ever growing list of activities that need to be attended and respond to, sometimes becomes an ever growing mountain. There is so much more to do—so much work to be done—but the brain is telling you to stop.  It's full and overflowing.  It is suffering congestion and needs some downtime.

To read the full article:

Thai Yoga Stretching for Fibromyalgia and Chronic pain
by Karen Evans - Myotherapist, Remedial Masseuse, Sports and Relaxation masseuse and full qualified Thai Stretching therapist
Sufferers of fibromyalgia and chronic pain know that there is no one simple solution to the problem. However, recent studies have shown that traditional Thai massage, sometimes called Thai yoga massage, can be extremely effective in promoting relaxation in the body, allowing for better quality of sleep and improving overall wellbeing [1]. Some recipients from the studies also reported lessening of overall pain levels and decrease in frequency of pain level 'spikes' [2].
 
Nuad Bo-Rarn, or Northern Thai massage, is a practice which was originally practiced in the temples of northern Thailand and has its roots in the ancient medicine of Ayurveda. With influences from both yoga techniques and the traditional Eastern theory of energy lines and meridians, it is known in Thailand as passive or "lazy" yoga, because the recipient lies on a mat while their body is taken through a series of assisted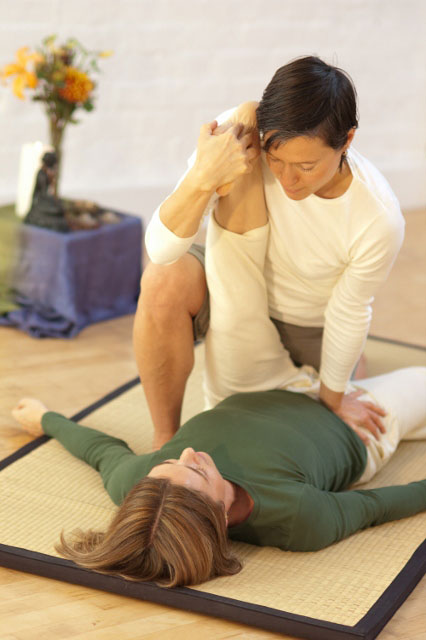 moves which aim to release tight muscles and joints and increase balance and range of motion while also creating a state of deep relaxation.
 
How does a session work?
A typical Nuad Bo-Rarn treatment lasts 90 minutes. The recipient wears loose-fitting comfortable clothing and the session takes place on a floor mat, with the recipient lying comfortably while the practitioner gently relaxes and balances the body using a combination of massage, stretching, acupressure and joint mobilization techniques. All movements are adjusted to the range of motion of the participant, who should feel nothing but a pleasant stretching sensation and a deep sense of relaxation. More advanced stretches can be added as flexibility increases.
 
What is it good for?
* Releases points of tension in the body, releases stress and increases energy
* Increases flexibility and range of motion
* Assists alignment and postural integrity
* Improves circulation
* Allows deep relaxation and helps improve quality of sleep
 
Karen Evans is a Myotherapist who has recently travelled to Chiang Mai, Northern Thailand to undertake intensive training in this ancient and effective treatment style. Nuad Bo-Rarn is an excellent complement to western treatment methods and well worth trying.
 
[1] Fibromyalgia and Thai yoga. http://thaimassage.com/2015/08/20/fibromyalgia-and-thai-yoga/
 
[2] The efficacy of traditional Thai Massage in the treatment of chronic pain: a systematic review. http://thaimassage.com/2015/07/05/the-efficacy-of-traditional-thai-massage-for-the-treatment-of-chronic-pain/

Winter Wellness with Herbal Medicine
By Michelle Reynolds - Naturopath
With winter upon us it is time to start thinking about ou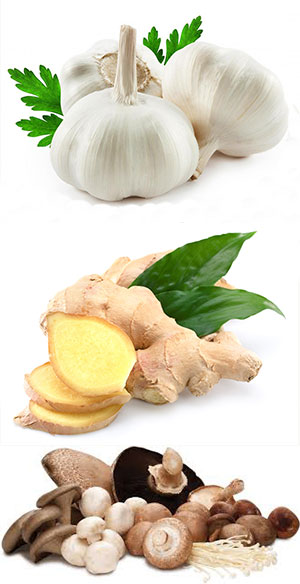 r immune health and how we can stay vital and well during the cooler months.  Many people have come to expect that they will experience one or two colds over winter, even more for some, but this doesn't necessarily have to be the way.  Putting a few key strategies in place over the winter months can help prevent the dreaded cold or influenza from taking hold.  When it comes to winter health, prevention is far better than cure!

Whilst cooler weather and shorter day's drive us all indoors for a few months, it is still important to stay as active as possible and soak up plenty of the winter morning sun, eat plenty of fresh hearty wholefoods and get adequate restful sleep.  After all, Spring will be here before we know it and we want our bodies to be in tip top shape to put all those plans we made over winter into action!
I am a passionate lover of herbal medicine and whilst I love devising herbal concoctions in clinic to support my patients' immune health, there are ways you can incorporate herbal medicine into your health routine at home.  Using culinary herbs in your cooking is a great way to utilise the benefits of herbal medicine at home and provide your immune system with extra support.
Herbal Medicine is right under our noses in the everyday foods that we eat, here are three of my favourite immune boosting foods to keep you healthy over winter. 

To read the full article:

Yummy Cacao Smoothie
Cacao blended with Brazil Nuts tastes just like a version of Nutella, so give the cacao smoothie recipe a try today - it tastes the same but more delicious and so much healthier!  Did you know cacao has a whopping forty times the antioxidants of blueberries, is the highest plant-based source of iron, its full of magnesium (for a healthy brain and Heart) and even has more calcium that cow's milk!  This cacao smoothie recipe gives you a smooth Nutella flavour drink with all the benefits
Ingredients
1/4 cup raw Brazil Nuts
1/4 cup dates pitted
2 tablespoons Cacoa powder
2 cups almond milk
1 1/2 cups ice
Method
Blend all ingredients together until smooth.  Enjoy.
For more deliciously healthy recipes visit our recipes section of our website.